Desert Camps of Rajasthan
|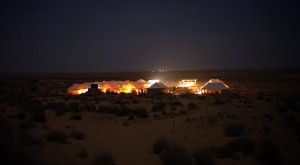 Rajasthan, home to the golden sand dunes, is a haven for desert camps in India. For the erstwhile Maharajas, campaigning in distant lands meant long stays in desert camps. During wars or expeditions, camps were the only luxury available and soon these "homes away from home" evolved into mobile, mini-palaces.
Today, Rajasthan offers a wonderful selection of desert camps, to create the ideal nomadic desert retreat. Most camps offer camel and jeep safaris to nearby villages and evening entertainment with bon fire, local musicians & dancers, puppet shows, juggling, and other regional performances.
PUSHKAR, is the hub of India's largest annual camel fair held in November every year. Pushkar is home to a beautiful collection of desert camps, ranging from the luxurious tents at Greenhouse and Aaram Bagh to the deluxe tents at Pushkar Bagh, which swing to life with people and large flocks of camel every November.
NAGAUR, like Pushkar, is home to an annual cattle fair, held in February every year.  Founded in the 4th century, the city of Nagaur is dominated by the Nagaur Fort complex, which encompasses luxury tents, using the finest of Marwar traditional skills.
JAISALMER, the golden city of Rajasthan and a haven for desert camps offers a wonderful selection of camps to suit every budget. Popular desert camps in and around Jaisalmer include:
The Serai, a luxury desert camp and spa, offers 21 tents, including a 'Royal Suite' with its private pool, spa and lounging tent and 6 'Luxury Tents' with private walled gardens and plunge pools.
Mirvana Nature Resort, located midway between Pokhran and Jaisalmer, provides 15 luxury tents, raised on a marble platform, crafted using local natural materials. Being a nature resort, Mirvana also offers organic food and fresh farm dairy.
Mool Sagar Camp, a historic camp with 18 luxurious tents, delightful stone pavilions and fountains, and a swimming pool, set amidst wonderful gardens.
Dune Safari Camp, in the sand dunes of Sam, consists of 20 deluxe tents, with a rustic charm. The camp can also arrange desert marathons and desert survival lessons for small groups.
OSIAN, is a famous landmark camp in the sand dunes of Rajasthan. Featuring a refreshing swimming pool, the camp is a feat of architectural engineering in the sand dunes. Osian camp is famous for its safari bar, a wonderful place to relax in the evenings with a drink and cigar.
ROHETGARH, located close to Jodhpur, is a wilderness camp, with large tents furnished with typical Rajasthani decor. The tents are set up around a central lounge and dining area, which is beautifully relaxing by day and romantically lit with candles by night. The camp is located on a small dune, with spectacular views.
MANVAR, a tented camp amidst the wilderness surrounded by sand dunes, is an oasis of rare exclusivity. 30 safari-style tents arranged in a semi-circle around a central 'durbar' hall, allow for commanding views over the desert wilderness. These luxurious tents are more like mini-marquees with polished teak furniture, rich jute rugs and lovely custom designed block-printed tent linings.
MANDAWA, a quaint town in the heart of Shekhawati region in Rajasthan, offers rural charm in the form of mud cottages at the Desert Resort and spacious swiss tents at Camp Mandawa.
ABHANERI, the historic site of 7th century step wells, offers rustic camps as an ideal stop over en-route the famous golden triangle. The camp offers 12 deluxe tents with wall to wall carpets, mesh windows, wood and wrought iron furniture.
NIMAJ, a small village in central Rajasthan is home to the luxurious Chhatra Sagar Camp, set along the banks of a water reservoir. Each tent is carefully hand stitched with interiors block printed in traditional floral motifs. The camp has 11 tents along the banks of the lake and 2 tents atop a hill providing complete privacy and a breathtaking 360 degree views.
RANTHAMBORE, the wildlife hub of Rajasthan Tour, is home to a beautiful collection of desert camps ranging from the luxurious tents at Oberoi Vanyavilas and Aman-i-Khas, to the eco friendly lavish tents and cottages at Sherbagh and Khemvilas, deluxe cottages at Tiger Den and Pugmark, and the budget tents at Ranthambore Bagh.