Another triumph shines at Travelite – This time Rolls Royce Ghost!
|
India's most prestigious luxury car rental service, KTC (India) welcomed 2015 with the addition of a brand new Rolls Royce Ghost – Series II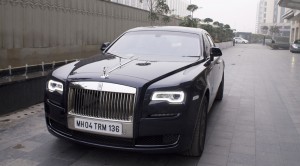 to its fleet. Stationed in New Delhi, the moonlight blue beauty will serve Heads of States, visiting dignitaries, celebrities and high end clients. With the emerging luxury market in India, there is also high demand for a car fit for the Queen to bring home a new bride or arrive in style to high profile events!
KTC (India) (formerly known as 'Karachi Taxi Company'), founded in 1943, pioneered the art of luxury car and coach travel in India.  Even before India's independence KTC (India) owned and operated the largest fleet of imported luxury cars and coaches in the country. Proud recipient of several prestigious National Tourism Awards, KTC (India) has yet again raised the bar for luxury car rental services in India.